"Smoothing Secret" For normal Hair
The hair serum "Secret of Smoothing" is a complete natural care formulated from innovative unique assets derived from biotechnology.
Concentrated 5 in 1: disentangling, nutrition, hydration, shine, intense smoothing.
Suitable for demanding and fragile hair, illuminates, protects the color, sublimates naturally.
Particularly recommended for rebellious hair, dry, curly, discolored and colored, the dosage of serum is to adapt to the needs of your hair (the more they are damaged, the more the dosage will be important).
With precious smoothing vegetable oils, it's your secret for perfect smoothing.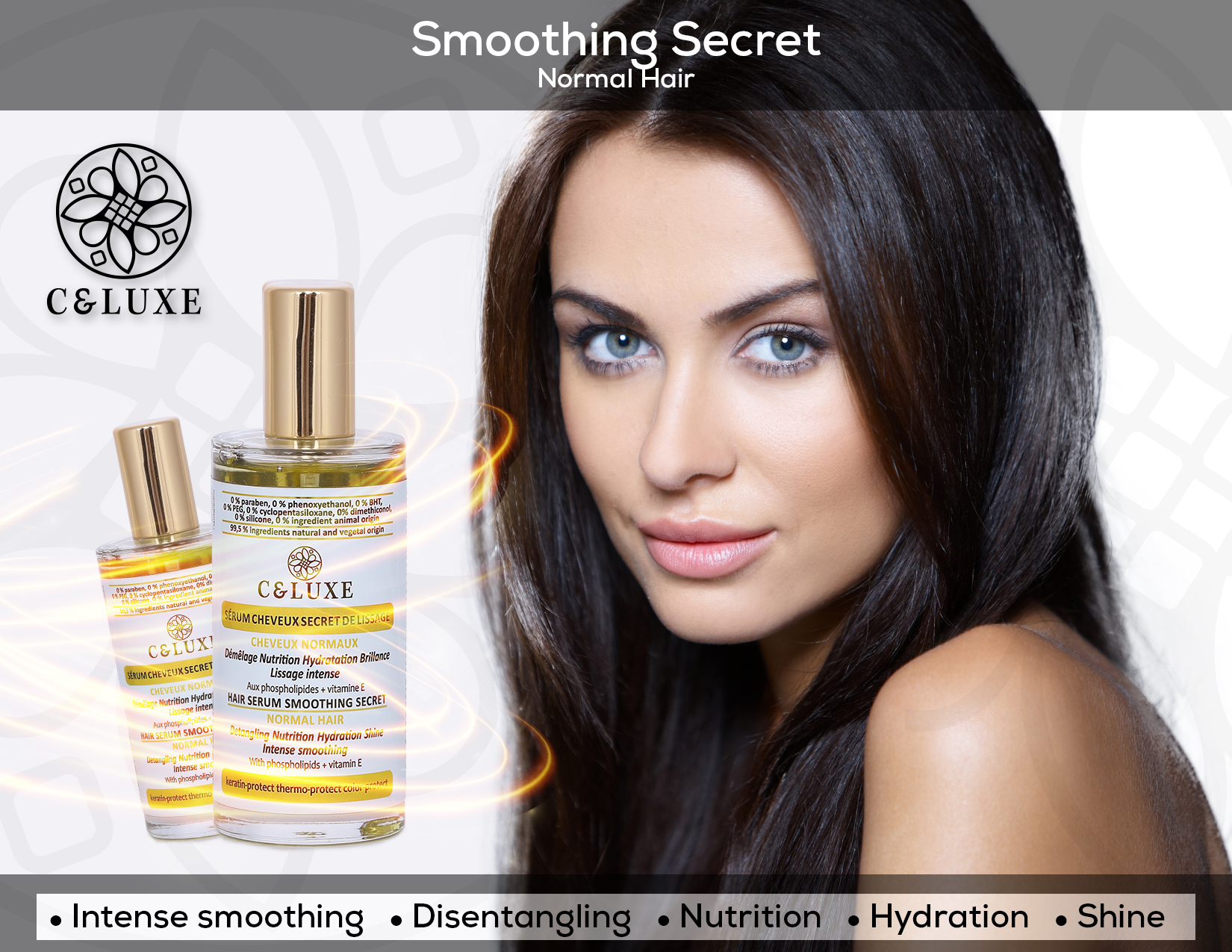 Instructions for use: after shampooing, apply with the hands 2 to 4 minimum pressure-doses on well wrung hair, spread on the lengths by massaging, disentangling, blow-drying. For a "baguette smoothing" finish spread over dry hair 1 to 2 doses-pressures and iron the brush while drying in the dryer, or the hair straightener.
Result: a real beauty of your hair.
The serum "secret of smoothing" brings a finish "matter" chic very glamorous, your hair is light, they move naturally (no effect cardboard, fat or plated), they are extremely soft and silky to the touch. An irresistible sensation of luxury.
———-
Vegetable and natural formula, 99.5% of the total ingredients are of natural origin, allergen-free. Hypoallergenic fragrance, suitable for children.
Celuxe Serum "Smoothing Secret" is without petrochemical derivatives (it does not cause itching, film and allergy):
without silicone
paraben free
without cyclopentasiloxane
without dimethiconol
without phenoxyethanol
———-
Celuxe advice on shampoo, conditioner, mask and serum:
The hair expert Celuxe recommends for the washing of the hair the use of a simple shampoo without silicone (the silicone smothers the hair and makes it dull and sticky). Conditioners and masks are not recommended because they contain silicones and petrochemicals that grease the hair and cause allergies. The formulas of the sera are for the most part petrochemical and not beneficial for the hair.
Our expert recommends the duo shampoo without silicone – serum "secret smoothing" for a real beauty of your hair.
If your hair is very dry or damaged, apply the Celuxe "Smoothing Secret" serum 20 minutes in a mask before shampooing.